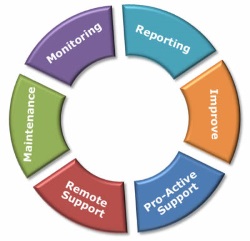 2023 Promotion – Free Server and Network Monitoring!!!



ATG is now managing 1000's of Workstations and over 100 Servers! See why so many small businesses switched to us, saving themselves $1000's of dollars!
Already have Managed Services, why are you paying so much?
Antheon Technology Group (ATG) offers three managed IT plans. Our Managed IT plans all include 24 x 7 monitoring, antivirus and antimalware protection, remote control agent, security and update patch management, alerting, asset management and reporting. Our standard "ATG Managed Care" plan adds unlimited telephone and remote control support along with guaranteed response times. Our "ATG Total Care" all inclusive plan adds unlimited on-site support. The Total Care plan allows you to budget and know exactly what your IT support costs will be. Our "ATG Monitoring Only" plan includes all the benefits of Managed Services with no included labor.
The Real Benefits of "Managed Services" vs. current "Break Fix" Model
Put in simple terms – one of the biggest benefits of Managed Services is discovering and fixing problems before they can negatively affect your business. Instead of being reactive, ATG can now be proactive.
A well maintained, proactively serviced computer network will always run better than the alternative. With proactive network monitoring, patch management, and desktop optimization performed on a regular basis, you will notice a tremendous difference in operations… and you will reap the benefits of preventing fires, rather than fighting them.
A managed environment also reduces costs. Businesses are also able to budget and control their overall operating costs with the flat-fee billing model.
Additional Benefits of Managed Services:
| | |
| --- | --- |
| 1 | Proactive and preventative support |
| 2 | Patch management reduces exposure to malware, viruses and phishing attacks. Most of today's malware works by exploiting holes in unpatched software, with up-to-date patch management these risks are reduced significantly. |
| 3 | Remote access of each device allows our techs to engage and fix users issues usually within minutes. Users can request support via a help icon on their computer. |
| 4 | Increased operational efficiency reduces operating costs |
| 5 | Reducing risks minimizes potential downtime |
| 6 | Allows the focus to be on running the business, and not the technology |
| 7 | Peace of mind from knowing that the network is monitored 24/7/365 |
Additional Services
ATG offers several additional services including Endpoint Detection and Response (EDR), Microsoft Office 365 and Azure Cloud Plans, Next Generation Business Continuity and Disaster Recovery, Cloud Backup and more. These are highly specialized and tailored to each site, so please ask for more detailed information on these services.
Plan Comparisons 
Service Benefits:
Monitoring Only
ATG Managed Care
ATG Total Care
Devices covered per user: (Computers, phones, tablets)

1

3

3

Antivirus and Malware Protection:

Yes

Yes

Yes

24×7 Remote monitoring and health alerts:

Yes

Yes

Yes

Robust Security and Update Patch Management:

Yes

Yes

Yes

Web Filtering & Reporting:

Yes

Yes

Yes

Asset and Inventory Tracking:

Yes

Yes

Yes

Executive Reports (web or e-mail):

Yes

Yes

Yes

App for users to request support:

Yes

Yes

Yes

Annual On-Site Review

Yes

Yes

Yes

Remote and Telephone Support:

Remote agent installed, time is billable

Unlimited

Unlimited

On Site Support:

Billable, not discounted (unless used with prepaid contract option)

Billable – 20% Rate Discount. Travel fee waived

[1]Unlimited

Response Guarantee (SLA) Network Down – Critical:

Same Day

Same Day

4 Hour

 Non-Critical:

Remote: Same day to next day.

On-Site: Scheduled Up to 48 Hours

Remote: Same day to next day.

On-Site: Scheduled Within 24 Hours

Remote: Same day

On-Site: Within 24 Hours

[2]

Monthly Plan Costs

 

 

 

Per Server:

$45.00

2023 Promotion Free

2023 Promotion Free

Per User:

$10.00

$45.00

$75.00

Network (Switches, Routers, Firewall, etc.)

Based on user count:

Based on user count:

Based on user count:

1 to 10 Users:

$60.00

2023 Promotion Free

2023 Promotion Free

11 to 50 Users:

$90.00

2023 Promotion Free

2023 Promotion Free

51 and Over Users:

$120.00

2023 Promotion Free

2023 Promotion Free
* 2023 Promotion valid for new clients only purchasing ATG Managed Care or ATG Total Care Plans with a 3 user minimum. Servers are free up to a maximum of 3 servers.
Examples on how to Price:
Example 1. Company with 8 Users, 1 Server purchasing ATG Managed Care:
| | | |
| --- | --- | --- |
| 8 users (Up to 3 devices ea.) | 8 x $45.00 | $360.00 |
| One Server | 1 x $125.00 | Free |
| Network (1 to 10 Users) | $100.00 | Free |
| Fixed Monthly | | $360.00 |
| | | |
ATG Managed Care includes unlimited remote support and discounted on-site support.
Example 2. Company with 24 Users, 1 Server purchasing ATG Total Care:
| | | |
| --- | --- | --- |
| 24 users (Up to 3 devices ea.) | 20 x $75.00 | $1,500.00 |
| One Server | 1 x $250.00 | Free |
| Network (11 to 50 Users) | $200.00 | Free |
| Fixed Monthly Cost | | $1,500.00 |
| | | |
Total Care includes unlimited remote support and on-site support.
About Antheon
Antheon Technology Group (ATG) has been servicing the business community for over 30 Years with their technology needs. ATG is a full service consulting firm offering managed systems and network support, outsourcing and integration; infrastructure design and implementation, software development and integration; Internet and e-business solutions; and business application software solutions. We work with businesses to automate processes, improve communications, improve efficiency and assist in moving companies into the "new economy."
Our goal is straightforward: make the Internet a part of everyday operations by bringing together hardware, software, and cloud services to enable companies of all sizes to move processes online, better understand and respond to their customers, empower their employees with access to critical business information, and connect to suppliers and partners. By doing so, we have helped our clients to achieve greater returns on their technology investments.
The difference in our approach lies not only in realizing the unique business problems that our clients face, but also in the understanding of competitive pressures and trends within our clients' industries. Armed with this awareness, ATG can provide cost-effective, timely, and reliable solutions. Approaching each project with these goals in mind, assures our clients a solution that is tailored their needs, budget and forecasted business plans.
ATG partners with today's leading technology companies such as IBM, HP, Dell, Microsoft, Intel, SonicWALL, Datto and Cisco, and has numerous certifications and designations including Microsoft Silver Cloud Partner.
[1] Unlimited on-site support is for the sole purpose of supporting your current infrastructure, devices and users. Locations of On-Site support must be agreed upon before start of contract. It does not include planned projects which would be quoted separately, such as company moves, cloud migrations, etc.
[2] All technology related equipment and users must be covered. Cannot pick and choose unless mutually agreed upon. All Plans are billed monthly prior to the month start. These plans are not hardware warranties.